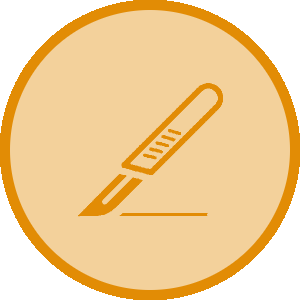 Information on this page relates to the West (Cheshire & Merseyside) Sector of Health Edcuation England, North West (HEE NW) only.
Arrowe Park Hospital (one ST)
Arrowe Park Hospital (Wirral Hospitals Teaching NHS Trust) is a large general hospital situated in the North of the Wirral Peninsula providing a general maxillafacial service including salivary gland surgery, dentoalveolar surgery, adult facial deformity in addition to a busy facial skin cancer service. The Accident and Emergency Department is busy with a large number of facial fractures being treated annually. Some trauma is transferred to Aintree depending on the complexity of the case and availability of surgical/theatre time. There is also an opportunity to observe facial aesthetic surgery.
On Fridays the ST attends the hub hospital (Aintree) for a mixture of general/skins/post traumatic deformity and (adult) secondary cleft surgery.

Countess of Chester
This is a busy District General Hospital providing general maxillofacial and orthognathic services to the population of Chester and surrounding area. In addition, facial skin cancer, dentoalveolar, salivary and simple trauma surgery is carried out on either a day case or in-patient basis. Cases requiring more major surgery including orthognathic are treated in the Regional Unit at Aintree which the Specialty Trainee attends.

Royal Liverpool Children's Hospital (Alder Hey) (one ST)
Alder Hey is a large paediatric hospital providing a general maxillofacial paediatric surgery and paediatric head and neck malignancy. It is one of the five Supra-regional Craniofacial Units in the UK managing syndromic and non-syndromic anomalies. It is the North West Regional Cleft Lip and Palate Service (in a functional network with Manchester).
Cleft and paediatric craniofacial surgery.
4 consultant OMFS surgeons, one ST and two SHOs comprise the paediatric OMFS team in Alder Hey, sometimes with the additional of a craniofacial fellow and/or a cleft fellow. The regional OMFS service encompasses the provision of primary cleft surgery and paediatric craniofacial surgery at Alder Hey Hospital in Liverpool. Liverpool is one of the 4 national accredited craniofacial surgery units and carries out approximately 80 cranioplasty procedures per year in collaboration with the paediatric neurosurgery team. Maxillofacial surgeons are also responsible for primary and secondary cleft surgery. In additional to the normal range of paediatric trauma, oncology and oral surgery provided within Alder Hey, these range of surgical services offer an unparalleled opportunity for training in paediatric OMFS.

North Wales Rotations (two STs)
Glan Clwyd Hospital (North Wales NHS Trust (Central) serves as the hub of the North Wales Oral and Maxillo-Facial surgery service. It provides general and specialised out-patient services in addition to day case and in-patient surgery. The department shares a dedicated 27 bed Head and Neck ward with ENT.
Four spoke hospitals are situated at Bangor, Deeside, Llandudno and Wrexham providing out-patient clinics and day case surgery. Patients requiring in-patient stay are transferred to the main unit at Glan Clwyd. Approximately 40 microvascular free flaps are performed annually and the department provides a reconstruction service for ENT. Multi-disciplinary meetings are held for head and neck cancer, dermatological malignancy, adult facial deformity and restorative/implant dentistry. There is a very large facial skin cancer workload. The unit possesses sialendoscopy equipment for the minimally invasive management of salivary gland calculi and strictures.
In North Wales Emma Woolley has a sub-specialty interest in orthognathic surgery.
Trauma in North Wales is consultant led with both STs gaining experience throughout the eight months of this block.
There are two rotations in North Wales and STs usually spend at least four months in each, and an additional four months later in training based on their sub-specialty interests.

Oncology Rotations (two STs)
Approximately 100 new cases of oro-pharyngeal malignancy are managed in the Unit each year. There is a weekly multidisciplinary team meeting and close links exist with oncologists, palliative care, dietitians and speech and language therapy. The oncology team work closely with ENT and provide a micro-vascular reconstruction service.
The regional H&N oncology service at Aintree University Hospital offers excellent opportunities for training in ablative and reconstructive surgery. The unit has traditionally been at the forefront of new techniques and concepts in surgical techniques and this continues to the present day. The unit serves a population of 3.5 million people in Merseyside and Cheshire and constitutes 8 surgeons across OMFS and ENT surgery with additional input where required from the Walton Neurosurgery Unit on the same site. Particular areas of clinical and research strength include methods of free flap reconstruction, oral rehabilitation, quality of life studies and molecular biomarkers. Associated specialists in prosthetic dentistry, oral pathology, speech therapy and specialist nursing enhance the quality and comprehensive nature of the service provided. There is a strong philosophy of data and tissue collection in order to maximise efforts in audit and research. three trainees are actively involved in oncology training at any time, two of the ST grade and a further H&N fellow whose time is split between ENT and OMFS. Generally the major OMFS oncology operating lists are held twice per week and these are three session lists which usually run mid-evening, allowing the extra time for microvascular surgery to be comfortably accommodated. Additional surgical experience is obtained by virtue of the reconstructive service offered to the ENT and skull base teams. The MFU training grades are expected to actively contribute to the H&N oncology multi-disciplinary team meetings, which occur weekly and are integrated between all specialities. The rotation also includes Glan Clwyd Hospital in North Wales where major oncology surgery is also provided by a team of two OMFS consultants.

Trauma Rotation (one ST)
In a single four month block as trauma ST, most trainees see as much trauma as some ST see during their five years training. There are four to six consultant supervised trauma theatre sessions each week on which mandible fractures and 'semi-elective' trauma such as zygomatic fractures, orbital floor injuries and mid-face trauma are concentrated. Each week there is a lead consultant for acute patients (Consultant of the Week) who works with the consultant with a subspecialty interest in trauma. Paediatric trauma is treated in Alder Hey Hospital.
Robert Laycock, Carl Jones and Mark Boyle have an interest in the management of post-traumatic deformity including rhinoplasty. David Richardson carries out ear reconstruction using and is recognised as a leading surgeon in this field in the United Kingdom. Patrick Magennis leads for more complex acute trauma.

Aintree Adult Deformity and TMJ Surgery (two STs)
Adult Deformity
There are five surgeons undertaking orthognathic surgery in Aintree University Hospital, Arrowe Park Hospital and the Countess of Chester Hospital. With over 100 orthognathic cases treated surgically each year in Merseyside this creates a great opportunity for a trainee to develop a thorough understanding of the whole process.
TMJ Surgery
In Martin Dodd and Anne Begley the West Sector rotation has two surgeons who have particular expertise in this field. They undertake arthroscopy, open TMJ procedures including joint replacements. A trainee has the opportunity to obtain exposure not just to the surgical procedures, but also to the decision making leading up to the surgery.

Training Interface Fellowships (TIG) and Craniofacial Fellowship
Within the West Sector we have also have Fellowships in:
Paediatric Craniofacial Surgery
TIG Cleft
TIG Head and Neck Oncology
TIG Aesthetics (contributed to)

NTNa Academic Clinical Fellow
Professor Shaw has obtained central funding for an NTNa (Academic Clinical Fellow). This is not a recurring post but will be reviewed when the current post finishes. This post is 25% research 75% research so we will use one of the additional timetables to create space to address the clinical training needs of this ACF as a placement for an ST at an appropriate level.
---
Page Last Updated 2 March 2017