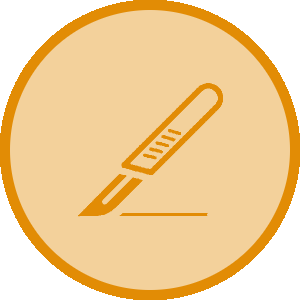 Information on this page relates to the West (Cheshire & Merseyside) Sector of Health Edcuation England, North West (HEE NW) only.
Travelling Between Hospitals
Apart from on-call activity (when trainees working in a spoke hospital have to return to the hub), there are very few days during which trainees are required to be in two hospital locations. The exceptions are joint clinics in Liverpool Dental Hospital and clinics in Warrington.

Surgical Dermatology and Lasers
A large volume of skin lesions is treated annually. The Unit also has access to a Tuneable Dye laser and Carbon dioxide lasers for the treatment of vascular lesions.
The management of skin malignancy has been a growth area for OMFS surgeons in recent years. In the West Sector, Mark Boyle, Carl Jones and the recently appointed consultant Robert Laycock are the main providers of this service. Skin cancer in Liverpool has its own Multi-disciplinary Clinics (MDT) attended by these clinicians. The OMFS team in North Wales provide the skin cancer service and thus a wealth of experience and all the consultants are involved in providing this training. MDTs exist in each hospital in North Wales.

Dento-Alveolar Surgery
There is adequate exposure to this core activity of our specialty and those entering training with low exposure receive targeted training in this area. This does not detract from the training opportunities in other sub-specialty areas. More complex dentoalveolar surgery is referred from Liverpool Dental School to Aintree for further care.

Aesthetic Suregry
This will become an increasingly important part of private practice in the future. As the majority of surgery in this sub-specialty area is undertaken in the private sector, most ST rotations find it difficult to deliver advanced experience for the interested trainee. In Merseyside there are opportunities in the NHS and in the private sector to develop skills and knowledge in this area. A recent trainee obtained a place on a rhinoplasty fellowship, the first UK OMFS trainee to do so.

Minimally Invasive Surgery
Patrick Magennis is building experience in this area including endoscopically assisted management of fractures of the mandibular condyle and trans-oral retrieval of submandibular sialoliths. The consultants in North Wales are performing endoscopic management of sialoliths and trans-oral retrieval of submandibular sialoliths.

Combined Care with Neurosurgery
The Walton Centre for Neurosciences based on the same site and Aintree Hospital and linked by a bridge. There is a skull base MDT and joint operating on both oncology and trauma patients on a regular basis.
---
Page Last Updated 2 March 2017