2019
'Developing Talent - Maximising Potential' - Spring Educators Training and Development Event
Wednesday 22nd - Thursday 23rd May 2019 | Preston, exact venue TBA
2019's Spring Educators Conference is being readied for registration, and is to take place in Preston on Wednesday 22nd and Thursday 23rd May.
---
2018
Enhancing Working Lives | Haydock Racecourse | Haydock
This was a one day conference for DMEs, HoS, TPDs, MEMs, Educational Supervisors, NW HEE Staff and, anyone else working in postgraduate medical and dental education. Many of the resources and presentations from the event can be found here.
Please click here to see the programme.
Keynote Speakers included:
Vicki Culpin - Professor of Organisational Behaviour at Ashridge Executive Education, part of Hult International Business School, and author of 'The Business of Sleep' - spoke about current research on sleep and impliciations for learning.
Julian Stodd - Founder of Sea Salt Learning - discussed 'Social Leadership'.
---
2016
Professionalism and Excellence in Medical Education | Aintree Racecourse | Liverpool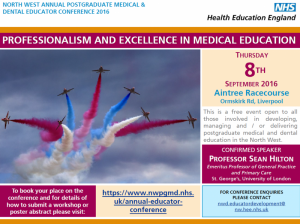 This was a free event open to all those involved in developing, managing and/or delivering postgraduate medical and dental education in the North West.
Speakers
Professor Jacky Hayden, Dean of Postgraduate Medical Studies, HEE (NW)
Professor Sean Hilton, Emeritus Professor of General Practice and Primary Care, St. George's, University of London
Professor Sheona Macleod, Postgraduate Dean and Chair of Health Education England's Postgraduate Deans
---
Page updated 28 June 2018