Equality, Diversity & Inclusion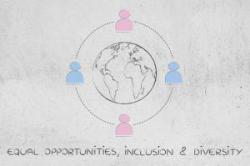 The North West of England is one of the most vibrant and diverse areas of the country to live and work. As such, it is vital that we provide our local people with a medical workforce that understands them and provides sensitively for their needs. The best way for us to achieve this is to attract and retain the highest calibre doctors, who reflect the diversity of the local population. We aim to provide the most welcoming and inclusive learning environment possible, supporting different needs and turning challenges into opportunities.
In September 2016 HEE (NW) formed an Equality, Diversity and Inclusion group with the aim of supporting the delivery of HEE's work on equality and diversity which seeks to ensure that all trainee doctors and dentists are treated fairly and enabled to reach their full potential. HEE is committed to ensuring that all trainee doctors are treated with dignity and respect and are able to learn in a supportive and inclusive environment. Please click here to view the Terms of Reference for the group.
There is a body of research emerging on differential attainment, not all of it expected. For example know that:
men are less like to be successful in postgraduate exams than women;
BME candidates with a UK primary medical qualification are less likely to be successful than their white counterparts.
The EDI group aims to engage with trainees to identify factors that lead to difficulties with progression, and then work to eliminate them.
We are keen to hear from anyone who is interested in these issues, and would like to be involved. Please feel free to look through the resources and read about some of the work that is being done.
Any outputs from the work that is done as part of this group will be available on this page.
Meet the EDI Group
https://www.nwpgmd.nhs.uk/resources/equality-diversity-inclusion-meet-group
Lead Employer EDI Policies
St Helens and Knowsley Teaching Hospitals NHS Trust
Meetings
Please click here to view the minutes and actions of our EDI meetings.
The Human Library
The aim of the Human Library movement is to promote social inclusion, and challenge prejudice and stereotyping. The organisation was founded in Denmark in 2000 by a group of students, and events have been hosted in an estimated 70 countries around the world. The methodology and language of a library is used as a framework to promote respectful conversations between the "books" and "readers" who take them out on loan for anything up to half an hour.
In January 2015, a Forerunner Fund application was approved to deliver 4 Human Library events in a healthcare setting. The events are open to the public and require books to volunteer who have experienced discrimination for any reason. The first 2 events were hosted by Bolton NHS Foundation Trust and a report of the events and the overall project can be found here.
Further EDI resources can be found on the Resources section of the website here.
---
Page updated 22 November 2016