North Western Deanery - Committed to a Lifetime of Professional Development
---
Our Vision
Everyone associated with health care in the North West:
will strive for ever-increasing standards of patient centred care
will be committed to a lifetime of professional development
will be proud of the care they provide
will support and challenge one another
The North Western Deanery is hosted by Health Education England and oversees postgraduate medical education and training with a responsibility for over 4,000 trainees.

We are proud of the training that is commissioned and provided for our trainers, educational supervisors and educational leaders and our achievement to meet the GMC standards for training.
We aspire to deliver the very best training and continuing professional development for doctors and dentists and ensure that they are ready to deliver the vision set out in 'Liberating the NHS'.
Our priority is to ensure that our trainers and training programme directors and competent and confident in their role, providing high quality patient care and high quality practical experience for doctors and dentists in training, supporting and challenging young professionals.
We hope that everyone working in medicine and dentistry in the North West will maintain and develop these high standards through supporting each other and challenging unacceptable practice throughout their working lives.
---
GMC National Training Survey 2014:
A chance to tell us what you think of your training

This year's annual National Training Survey launches on 26 March and this is your opportunity to tell us about the quality of the training you receive.
For more information including results of previous surveys please see the GMC website here: http://www.gmc-uk.org/education/surveys.asp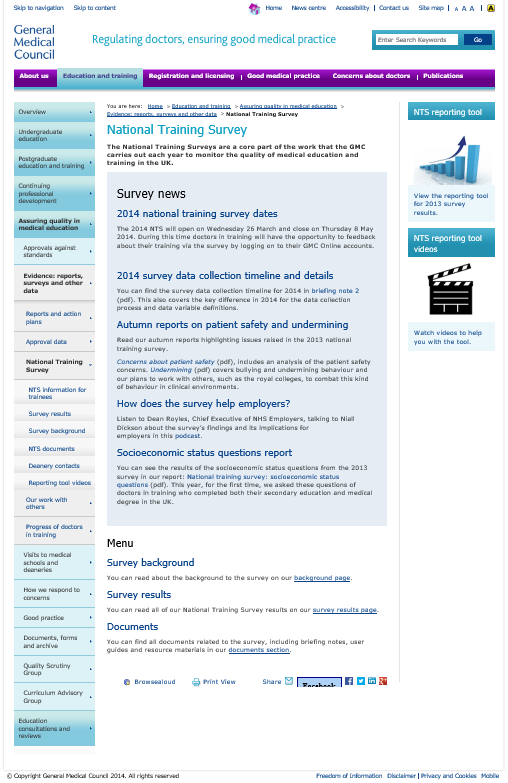 ---
NHS Values animations launched
Developed on behalf of HEE as part of the NHS Values Project, Health Education East of England (HEEoE) this week launched series of animations to explain the values of the NHS Constitution. The animations each explain one of the values set out in the NHS Constitution, with an overarching animation that explains the NHS Constitution itself.
Louise Kitley, NHS Values Project lead, HEEoE, said: "We want this to be seen by as many people as possible, whether on a loop in a waiting room, at staff inductions or as part of training or on intranets; anywhere that people will see them and be reminded of what is expected of staff."

The animations can be found on HEEoE's YouTube channel. For more information on the NHS Values Project, see their website.
---