So you want to be a brain surgeon? (Success in Medicine)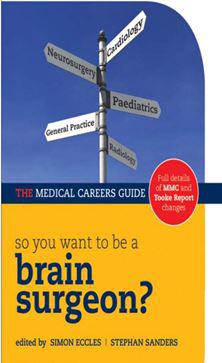 Which doctors make the most money? Which doctors work the hardest? How do you become an expedition doctor? What is it like to be a brain surgeon? Will it affect your career if you take a break? If any of these questions are relevant to you then this could be the most important book you ever read. Whether you are wondering what career to choose or want to know how to follow a particular medical career, you'll find the answers inside.
Deciding which path to pursue has a huge impact on your future life and yet few doctors or medical students ever receive formal careers advice. This has become even harder since the changes brought about by the Modernising Medical Careers (MMC) initiative. Fortunately help is at hand: this book has been fully rewritten to include the latest MMC information and summaries of 100 different medical careers and how to get there.
Whether you aspire to be a general practitioner, forensic psychiatrist, cardiologist or even a brain surgeon you'll find details on the lifestyle, job and specific career route. Each career chapter has been written by a senior specialist in that particular field to give you the 'insider's opinion', resulting in the most complete and up-to-date medical careers guide ever published.
Alongside the careers chapters there are new sections on the Foundation Programme, Core Training, Specialty Training and Academic Training. These also describe the major hurdles in each career and how to overcome them. From filling in application forms and choosing jobs to interviews and improving your CV, every aspect of your career is covered in detail.
Written by Simon Eccles & Stephan Saunders