Upcoming Events and Training
Transitioning to Consultancy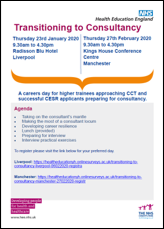 A free careers day for higher trainees approaching CCT and successful CESR applicants preparing for consultancy | Click here to see the flyer.
Tea, coffee and a buffet lunch will be available to all delegates.
Thursday 6th February 2020, 09:30-16:30, Jury's Inn, 31 Keel Wharf, Liverpool, L3 4FN | Click here for directions | Click here to register.
Thursday 27th February 2020, 09:30-16:30, King's House Conference Centre, 49-51 Sidney Street, Manchester, M1 7HB | Click here for directions | Click here to register.
If you have any queries, please do not hesitate to contact us at facultydevelopment.nw@hee.nhs.uk.
---
External Events and Courses
University of Liverpool School of Medicine's Careers Fair, Tuesday 12th November, 17:30-19:30, The Adelphi Hotel, Liverpool | Click here for directions
This is an opportunity to informally meet up to 60 North-West-based clinicians under one roof, and get help with one of the most important choices you will make during your medical career: choosing a specialty. The Fair is open to undergraduates at the University, from years 1-5, and to all foundation doctors: whether at the beginning of exploring the specialities, or not.
Many students and foundation doctors decide on a speciality prematurely without opening their minds to a new area they may never have considered, or write off a speciality because of a pre-conceived notion of what it might entail, or allow themselves to choose based purely on the experiences of the consultants they meet in practice.
Don't miss this rare opportunity to ask all those questions in a relaxed environment that have been on your mind when choosing or comparing specialties.
Details on how to register are TBA.
---
National Events
Medical Careers Events as advertised on the Health Careers website.