Careers at the North West of England Foundation School
Planning your career is a key skill in today's NHS. There are many resources available to help you with this but the responsibility to manage your career lies with you. Like any other management skills, career management does require you to develop and use techniques that might as yet seem unfamiliar.
Foundation doctor in North West of England Foundation School?
click the picture to see a short presentation of how Foundation Careers support works in the North West of England Foundation School.
For lots of general careers information on how to plan your career in medicine and advice on application forms, CVs and interviews and much more then visit https://www.nwpgmd.nhs.uk/careers_advice/careers
HENW train your educational supervisors to provide career guidance for you. You will be expected to discuss career plans during some of your educational appraisal meetings. You can get extra help with difficult career choices from your Foundation Programme Director or local Medical Careers lead. If you are really stuck and you need specialist help then this is available through HENW.
We also expect you to do some group careers sessions to develop the career management skills that will help you for the rest of your medical career. Some of these will be delivered in the mandatory education programme and some will be voluntary. Our portfolio contains voluntary career management reflection forms which will guide you to make decisions at the right time. Make sure you don't miss any opportunities to develop career management skills as they will help you navigate a sucessful and happy working life with the NHS.
Want to get involved in developing careers support for yourself and your colleagues?
The North West of England Foundation School have a foundation trainees forum with representatives from every programme across the school.Trainees from the forum have worked with the HENW careers team on projects driven by forum discussions. Talk to your rep if you want to find out more or consider becoming a rep yourself and leading on careers for trainees.
Planning your medical career: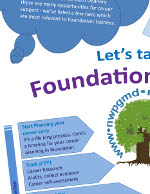 There are a set of skills you need to develop that will take you through your medical career and enable you to make the best choices possible at the right time. Making choices can be stressful so using a simple model can help, just like the ABC helps us to focus during resuscitation. This model has been developed by NHS medical careers:
Usual Timeline
Self assessment Sept - Dec year 1
Career exploration Jan - June year 1
Decision making June - Sept year 1
Plan implementation Oct - May year 2
There are careers reflection forms in your portfolio designed to help you with each of these four steps to career planning. Try to start early as you can see time is short to meet the opening of applications in November during your F2 year.
You will discuss your career plans with your educational supervisor during your appraisal meetings. There are reflective forms available in the NW e-portfolio 'Horus' for you to use to prepare for these discussions. Some trusts have a foundation programme career lead who may offer one to one sessions during which you can discuss your personal career reflections.
Local training programmes provide formal sessions where you can do group work on career management skills and learn about generic skills such as reflection and self awareness, decision making, applications and interviews.
Your educational supervisor may refer you on for more careers support from your foundation programme director or foundation career lead. There are speciality career leads, both trainee and consultant who can talk to you about specialty choices you may be considering and the interview and application process.
If your career needs are more complex then some Trusts have careers advisors or career leads you could see. The deanery careers team can also provide specialist careers support.
---
NHS Health Careers
The Medical Careers website contains a wealth of helpful information on planning your medical career. It includes detailed specialty information on most medical specialties.
https://www.healthcareers.nhs.uk/explore-roles/medicine
---
Medical Speciality Training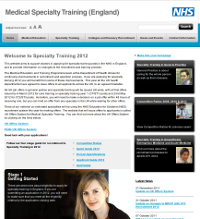 This website explains the process for speciality application this year. It has information on person specifications, application forms and results from the last round.
http://specialtytraining.hee.nhs.uk/
---
Links to UK Countries Specialty Training Websites
These websites show detailed competition data for each area across the UK. However, when using competition ratio data, you should always bear in mind that:
Previous years' application figures are not always an accurate indicator of future patterns.
Healthcare is changing rapidly and is increasingly being delivered in a community setting. Around half of all training posts in the next few years will be in General Practice, whereas the number of training posts in some specialties such as surgery is decreasing.
Competition ratios vary considerably by specialty and location, with some being much more competitive than others.
England:
Health Education England - speciality recruitement website
Wales:
Scotland:
NHS Scotland Medical Training Website
Northern Ireland:
Northern ireland medcial and dental training agency
A medical career in the NHS - general information:
This useful interactive tool illustrates the links between different stages in the medical career pathway. It has been produced by the Wales Deanery but is relevant to, and can be accessed by, anyone in the UK.

http://careers.walesdeanery.org/map/
---
Events
North Western Foundation Careers News
Welcome to the North west of England Foundation School
We provide lots of support for you to develop the career management skills that will set you up for a long and sucessful medical career.
We have a dedicated HENW careers team who develop and manage resources for and with trainees, as well as training educational supervisors and monitoring how well each hospital does in career support.
We have 4 career reflection forms in the e portfolio which are designed for you to use at key times during your foundation training. For more information on the timeline for career decsions have a look at the poster developed by one of our foundation trainees at the top of this page.
There are also lots of resources in the careers section of this website aimed at trainees at all levels and at educational supervisors.
You can also get involved in developing these resources for future trainees and perhaps get published through the Foundation Careers Group and through the Foundation Forum both which are hosted on the deanery virtual learning platform which you will use for some of your induction program.
Timely tips for F1 doctors
If you have no idea what you want to do - don't panic! there is still plenty of time and many choices that don't involve making a choice of speciality immediately. Only 60% of trainees move directly on to ST training at the end of foundation. Talk to your educational supervisor about the possibilities and do your research. If you are planning a career break there may be issues around maintaining your licence to practice and making sure you remain competitive for when you want to return to training. There is plenty of information available on the internet - don't expect your supervisor to have all the answers, but they may make a useful and hopefully impartial sounding board for these difficult decisions
There is unlikely to be one speciality out there that is the only answer for you and with competition increasing it is always good to have a plan B and probably a plan C and a plan D! Draw up a shortlist and really explore the different choices available to you. If you decide to work abroad for a time it is still good to do this preparation work now for when you do eventually want to apply as this will be harder without your current network. Careers tasters provide a great way on investigating speciality choices and making sure your really understand your favourite specialites and can maximise your chances of sucessful application. Remember these are for investigating the career not the subject and you can take up to 5 days in as many specialities as you want either in the last job of F1 or first of F2. They may take some organising so make sure you leave plenty of time to discuss with your educational supervisor or programme director.
Links for Careers tasters at the North West of England Foundation School
For guidance on tasters check the UKFPO website key documents in the careers section.

For information on local tasters in Psychiatry click here
Timely tips for F2 doctors
You may be feeling the pressure to finalise your plans for what you are going to do after your foundation programme. It is important to get going with organising your cv or planning for time out of training but there are lots of people who can help you. Talk things through with your educational supervisor. If you haven't decided yet whether you want to apply for specilty training in november then keep your options open by staying focussed on making your portfolio and cv as good as it can be. This will serve you well in the end no matter what you choose to do next.
There are some good websites out there for help making difficult decisions including the career planning section of the health careers website
https://www.healthcareers.nhs.uk/career-planning/planning-your-career/decision-making
and business balls BLISScareer planning tool:
www.businessballs.com/blissanalysisbb.pdf&sa=U&ved=0ahUKEwjEgeWK48XOAhVE7xQKHS29DqUQFggEMAA&client=internal-uds-cse&usg=AFQjCNHz4E3Ci8iqZR2kyusi8QWxYHMgpQ
Enquiries
If you have an enquiry please contact us by submitting this form.