Career Planning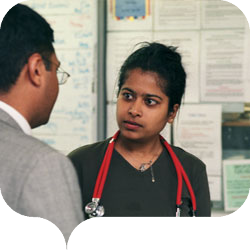 Career planning is the process of making and implementing career decisions. Ideally you should start the process in medical school well before your final year though there may be doctors further up the career ladder who are re-thinking their career choices and may need to start the process over again as they consider moving to a different specialty or even leaving medicine. There are resources and activities to support you whilst you are a trainee.
Career Planning Workshops
Currently career planning workshops will be run at trust level for Foundation Doctors. These sessions can arrange in length from an hour to half a day and will be run during your FY1 and FY2 years. Workshops on topics such as planning your career, useful structures for career planning, finding out about specialties as well as particular topics on applications and interviews will be run. The Medical Education Manager will have details when these are run.
Career Planning
HEE London's Introduction to Career Planning for Foundation Doctors.
Careers Information and Advice
Educational Supervisor/Consultant Support - Your Educational Supervisors and the consultants that you work with have a wealth of knowledge and experience that you should tap into. They can give you in depth information about their own and other related specialties and can guide you in pursuing a career within them.

Careers Information on the website - HEE NW career web pages provides an array of information covering almost all specialties and sub-specialties. The pages also hold information on a variety of topics such as medical CVs, application forms and how to develop careers management skills.
1:1 Career Guidance Meetings and E-mail Advice
Career guidance is the process that enables you to make a well informed realistic decision about your future career. There are staff available in the trusts that can help you with this such as Educational Supervisors, supervising consultants, College/Specialty Tutors, Directors of Medical Education and Postgraduate Centre Managers. However, there may be some who need extra support and the Career Team at HEE NW can offer one to one advice sessions contact via facultydevelopment.nw@hee.nhs.uk
Events
Throughout the year there may be a number of events that may be useful to you. Details of local and national career events are advertised through our career web pages and through e-mails.