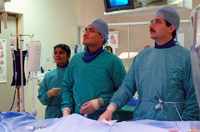 This section provides information on all aspects of training within hospital medicine in Health Education North West.
We are responsible for all activities linked with the postgraduate education and training of doctors in Hospital Medicine.
We support the monitoring, planning and performance of education programmes.
In addition, we aim to provide access to practical information needed by medical students and trainees within Foundation, StR and SpR Grades and an insight into what Health Education North West can offer.
If you are looking for specific information related to your grade please follow the link below to the relevant sections:
Foundation Training | SpR & StR training
If you are looking for training vacancies or recruitment opportunities please look at our Recruitment section.
Your main contacts within Hospital & Community Care are listed below:
Area of responsibility

Job title

Contact details

Overview of hospital training

Hospital & Community Care Manager (Regatta)

Overview of hospital training

Hospital & Community Care Manager (PP3)

Recruitment and Workforce Manager

Workforce Manager

Recruitment and Workforce

Recruitment & Workforce Manager

Recruitment and Workforce

National Recruitment Manager

Recruitment and Workforce

National Recruitment Manager

Recruitment and Workforce

Recruitment Administrator

Recruitment and Workforce

Recruitment Administrator

Study Leave

Study Leave administrator

Trainees working less than full time

LTFT administrator

Specialty

Associate Dean

Specialty School Manager

School Leader

School Administrator

ACCS

Acute Internal Medicine

Allergy

Anaesthetics (Higher)

Emma Woods

Anaesthetics (Core)

Emma Woods
Bernie Jones

Audio Vestibular Medicine (AVM)

BBT

Post Vacant

Cardiothoracic Surgery

TBC

Cardiovascular medicine

Tazheem Akhtar

Chemical Pathology

Child & Adolescent Psychiatry

Clinical Genetics

TBC - Please contact School Leader

Clinical Pharmacology & Therapeutics

TBC - Please contact School Leader

Clinical Neurophysiology

Clinical Oncology

Core Medical Training (CMT)

Core Psychiatry Training

Core Surgery Training (CST)

Dermatology

Jenny Black

Emergency Medicine

Endocrinology & Diabetes Mellitus

ENT (Otolaryngology)

TBC

Forensic Psychiatry

Gastroenterology

General Adult Psychiatry

General Internal Medicine

General Surgery

Geriatric Medicine

GU Medicine

TBC - Please contact School Leader

Haematology

Histopathology

Immunology

Infectious Diseases/Combined Infection Training

Intensive Care Medicine (ICM)

Medical Microbiology and Virology

Medical Oncology

Medical Psychotherapy

Neurology

Tazheem Akhtar

Neurosurgery

Nuclear Medicine

Obstetrics & Gynaecology

TBC

Occupational Medicine

TBC - Please contact School Leader

Old Age Psychiatry

Oral & Maxillo-facial Surgery (OMFS)

Ashley Barrett
Laura Griffiths

Ophthalmology

Karen Winterbottom

Paediatric Surgery

Paediatrics

Palliative Medicine

Plastic surgery

Psychiatry of Learning Disability

Radiology

Rehabilitation Medicine

Renal Medicine

Rheumatology

Respiratory Medicine

SEM

Stroke

Trauma & Orthopaedics

Urology

TBC

Vascular Surgery
Last Updated: 08/08/17