Supervision of Less Than Full Time Trainees (LTFT)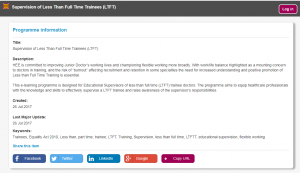 HEE is committed to improving Junior Doctor's working lives and championing flexible working more broadly. With work/life balance highlighted as a mounting concern to doctors in training, and the risk of "burnout" affecting recruitment and retention in some specialties the need for increased understanding and positive promotion of Less than Full Time Training is essential.
This e-learning programme is designed for Educational Supervisors of less than full time (LTFT) trainee doctors. The programme aims to equip healthcare professionals with the knowledge and skills to effectively supervise a LTFT trainee and raise awareness of the supervisor's responsibilities.