Clinical oncology
Curriculum - Clinical oncology training (2015)
Curriculum - Clinical oncology training (2021)
JRCPTB Specialty Overview and Recruitment - http://www.st3recruitment.org.uk/specialties/clinical-oncology
Training Programme Director (North Western)
Dr Ruth Conroy
Email: the-christie.clinicaloncologytraining@nhs.net
Christie Hospital NHS Foundation Trust, 550 Wilmslow Road, Manchester, M20 4BX
Training Programme Director (Mersey)
Dr Karen Whitmarsh
Email: karen.whitmarsh@nhs.net
Clatterbridge Cancer Centre NHS Foundation Trust, Lower Lane, Fazakerley, Liverpool, L9 7AL
North Western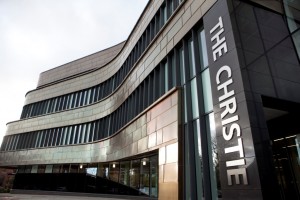 Introduction
The aim of the North West Training Programme for Clinical Oncology is to impart broad-based scientific and clinical knowledge alongside comprehensive practical experience in all aspects of the non-surgical management of cancer within a pre-planned and carefully monitored training programme leading to the award of the Certificate of Completion of Training (CCT).
Overview of the Training Programme
The Training Programme will comprise a Basic Phase completed after a minimum of 3 years allowing the individual to sit the FRCR examinations, followed by a Higher Phase which normally lasts for 2 years (statutory minimum of 1 year post FRCR). The post is based at the Christie which is the largest cancer centre in the Europe and one of the 2 NHS Proton Therapy Centres in UK. The programme includes a rotation to the Preston Cancer Centre (usually for 16 months) allowing the trainee to experience two-centre training and of treating cancer in a large District General Hospital with the full range of medical, surgical and diagnostic specialties on site.
Structured Training in Clinical Oncology
Phase

Year of Training

Objectives

Basic
1
FRCR Part 1 Training
2
Completion of FRCR Part 1 Exam
3

FRCR Part II Training

Clinical Research and Audit

4

Completion of FRCR Part II Exam

Post FRCR Training

Optional extra years, mainly for ACFs

Out of programme Research

(MD or PhD) or Experience

5

Site Specialisation

Management Training

CCT
Clinical Training
(A) Basic Phase of Training
The Department of Clinical Oncology at the Christie is organised into nine site-specialised teams of consultants to provide site-specialised training as well as continuous consultant cover. The Specialist Registrars will enter a 3-year rotation spending 4 months on each of these teams, to ensure a complete apprenticeship. It is expected that trainees will also rotate to the Preston Cancer Centre at the Royal Preston Hospital to gain oncological management experience in a second cancer centre. These arrangements are flexible enough to accommodate possible changing requirements of trainees.
All trainees will also gain practical experience systemic therapy on each of the site specialised teams. Trainees will be educated in patient assessment, the management of toxicities and the delivery of systemic therapies, including cytotoxic chemotherapy, endocrine therapies, biological, targeted agents and immunotherapies. Trainees will have the opportunity to recruit, assess and review patients on clinical trials for new emerging treatments as part of clinical trials within their Clinical Oncology teams.
Trainees will be educated in patient assessment for radiotherapy, the management of toxicities associated with radiotherapy treatments, radiotherapy treatment planning, and post treatment review of out-patients. Trainees will have the opportunity to recruit, assess and review patients on radiotherapy trials.
Training in radiotherapy planning incorporates simulator and computer radiotherapy planning, as well as brachytherapy and mould room techniques, all under direct consultant supervision.
Trainees will have the opportunity to participate in multi-disciplinary team decision-making as well as a wide variety of educational sessions. There will be the opportunity for site-specialised training in all of the major tumour sites and the programme will be tailored to the individual trainees needs. Radiology training will be incorporated into the weekly site specific tutorials, supervised computer radiotherapy planning, attendance at MDT and organised tutorials.
There is an option to train as an Academic Clinical Fellow (ACF) where trainees will be required to take up a PhD or MD as an out of programme research.
(B) Higher Phase of Training
During this period of approximately 2 years the trainees will be encouraged to assume increasing responsibility for decisions related to patient care. They will be expected to participate in multi-disciplinary team meetings, radiology and pathology review meetings. Multi-disciplinary Disease Groups allow trainees to gain practical experience and insights into the specialised assessment and multi modality treatment options for patients, enabling them to develop a special interest/expertise in a cancer sub-specialty. Trainees will be introduced to crucial non-clinical skills via involvement in management committee structures, organisation of meetings, attendance of management courses, teaching of undergraduate and paramedical groups and clinical presentation of research and audit projects.
Opportunities will be available for developing expertise in advance radiotherapy techniques such as IGRT, stereotactic treatments and VMAT. As the Christie is one of the 2 NHS centres in the UK developing Proton Therapy, there will be a chance to gain some experience in Proton Therapy.

Examinations and Courses
During the first year trainees will acquire a sound understanding and knowledge of the basic sciences relevant to oncology. They will attend courses in Cancer Biology, Radiotherapy Physics, Medical Statistics and Clinical Pharmacology leading up to sitting of the FRCR part 1 examination. These are provided in house. Trainees will have protected study time and funding to attend these courses.
Trainees are eligible to sit the FRCR part 2 examination after completing 3 years of training. The examination consists of a multiple choice 'single best answer' paper, a clinical and a viva assessment. There is a rolling programme of tutorials and lectures providing the theoretical basis for this exam, plus regular clinical and viva teaching sessions. Trainees will also be funded to attend specific FRCR part 2 examination courses.
Educational facilities
Comprehensive post-graduate library facilities are available. Training will be provided on the use of computers for accessing library information, developing word processing skills and data management. Trainees have unrestricted access to an allocated network of computers. There is a well-equipped Education Centre which includes an auditorium, seminar and meeting rooms.

Educational sessions
Weekly formal clinical and scientific lecture programme series.
Radiotherapy scientific meetings rotating through disease-sites.
6 weekly oncology whole day release teaching (rolling programme of site-based modules).
Weekly audit/case-presentation meetings.
Regular site-based clinico-radiological MDT meetings.

Research and Audit
Trainees are strongly encouraged to undertake clinical audits and clinical research projects throughout their training. They are supported and encouraged to achieve a number of publications in peer-reviewed journals and to present their work at academic meetings and conferences.
There are excellent opportunities for the trainee to undertake a formal post-graduate research degree. Radiation Related Research department, headed by Professor Tim Illidge has a continuous throughput of trainees undertaking MDs or PhDs in radiotherapy research. There are also close links with the adjoining CRUK Paterson Institute for Cancer Research, providing unrivalled opportunities for translational and laboratory-based research.
Flexible Training
Flexible training in clinical oncology is available at the Christie. The training structure is identical to that of full-time trainees in terms of content and assessment. These trainees must work a minimum of 5 sessions per week and require more than 5 years for completion calculated on a pro rata basis, depending on individual circumstances.
Entry Requirements for the Training Programme
MRCP Part 1 and MRCP Part 2 (including PACES) - essential
Oncology experience at foundation or ST level - desirable