North West School of Surgery - Otolaryngology, East Sector (North Western)
North West Otolaryngology (ENT)
Greater Manchester, Lancashire and South Cumbria
Key Contacts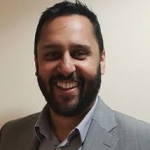 Mr Samit Ghosh,
Otolaryngology (ENT) Training Programme Director
Based at Royal Oldham Hospital
Email: samit.ghosh@pat.nhs.uk
Overview of Otolaryngology in the East Sector
This comprehensive higher surgical training programme in Otolaryngology/Head and Neck surgery encompasses all the ENT Departments within the East Sector (Greater Manchester, Lancashire and South Cumbria).
The curriculum will involve the acquiring of specialist competencies in the 4-6 years after entry to higher surgical training at ST3 and full details of the curriculum can be viewed on the ISCP website www.iscp.ac.uk.
Training Rotation
There are multiple hospitals in the area to give all trainees training in all the sub-specialities including General ENT, Rhinology, Facial Plastics, Paediatric ENT, Head and Neck Surgery including Thyroid and Parathyroid Surgery, Laryngology, Otology, Implantation Otology and Skull Base and Neurotology is available within the region.
Educational Opportunities
Trainees in ST3 and above until CCT will be expected to attend local educational programmes which are held within the hospital they are working in.
There is also a comprehensive teaching programme which takes place on a monthly basis. All units facilitate attendance at these sessions. The timetable for teaching can be viewed at www.entnorthwest.org.uk.
In addition there are opportunities for surgical cadaver dissection courses and workshops conducted locally and also an annual viva training day to prepare candidates for the intercollegiate examination. Trainees can also use the facilities at the new Surgical Simulation and Skills Centre at Royal Albert Edward Infirmary, Wigan for surgical training on 3 D Haptic Voxelman simulators including temporal bone drilling, and endoscopic sinus surgery.
Research and Audit
Opportunities for clinical research exist within all departments involved in the programme and trainees are expected to take advantage of this. There are several "research active" departments with a track record of supervising clinical research leading to publications and higher degrees from Universities in the North West. All trainees should be actively involved in audit on an ongoing basis and be in a position to demonstrate this at annual appraisal and ARCP. Teaching of less experienced medical colleagues, medical students, nurses and other paramedical staff is an integral part of the post and all trainees are expected to be involved in this.
Links

ENT UK

ISCP (Surgical E-portfolio)

Virtual Tour of the ear

e-medicine textbook of otorhinolaryngology

Head and Neck cancer support information

National library of medicine: patient information on ENT

Joint Committee on Surgical Training

British association of Paediatric Otorhinolaryngology

Association of Otolaryngologists in training

Ear Surgery information Center: Concise website covering all aspects of otological surgery
Hospitals on the Otolaryngology East Sector Rotation
GMC Programme Code: NWE1063 (was NWD931) and NWE1140 (run-through - was NWD4032)
---
Page Last Updated 7 August 2019