North West School of Surgery - Neurosurgery, East Sector (North Western)
North West Neurosurgery
Greater Manchester, Lancashire and South Cumbria
Key Contacts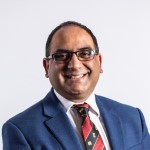 Mr Ankur Saxena,
Neurosurgery Training Programme Director,
Greater Manchester, Lancashire and South Cumbria
Based at Salford Royal Hospital
Email: ankur.saxena@srft.nhs.uk
Overview of Neurosurgery in the East Sector
The Neurosurgical Training Programme aims to provide the highest levels of training in Neurosurgery. Facilities and experience are available in the North West to provide the full spectrum of training from basic neurosurgical management to the most advanced subspecialty knowledge.
Training Rotation
Initial Neuroscience Training (Years 1, 2 and 3)
As of August 2013, it is anticipated that trainees will rotate as follows:
Trainees appointed into ST1 will spend six months at Salford Royal Hospital in Neurosurgical Critical Care and six months at Preston.
The ST2 year will be spent in Preston, involving six months of Neurosurgery and three months of both Emergency Medicine and Otolaryngology (ENT).
During ST1 and ST2, trainees will acquire the following skills in line with the curriculum:
Neurosurgical history and physical examination
Interpretation of diagnostic imaging studies
Outpatient clinical and decision making skills
Basic neuroanatomy and physiology
Neuro-intensive care and acute neurological emergencies
All of our trainees have successfully completed the MRCS examination by the end of ST2.
The ST3 year will be spent at Salford, completing two six months placements in Neurosurgery on the higher grade on call rotation. One of the six month placements will be at Royal Manchester Children's Hospital and the other at Salford Royal Hospital.
The transition from BNT to the second (intermediate) stage of training will be dependent on satisfactory performance and the acquisition of relevant clinical and educational competencies including success in the MRCS (Neurosurgery). Trainees will undergo regular assessments and appraisals throughout their training.
Higher Neurosurgery Training
For ST4-7 years trainees will rotate between Preston and Salford Royal. Generally trainees will spend 1 or 2 years at Preston and the rest of the time at Salford.
Within the curriculum the ST8 year is designated as a sub-specialty year and the placement will be dependent upon the trainees' requirements.
Educational Oppertunities
There is a structured regional teaching programme which is compulsory. This was started in the former North Western Deanery and has subsequently been joined by Liverpool, Leeds, Sheffield and Hull units. Over the last few years the success rate in the Intercollegiate Exam of trainees from the M62 corridor units has been notably high.
A list of recommended courses is kept up to date and trainees are expected to use their study leave and funds to attend these as they progress through the programme. In addition to this there will be teaching ward rounds and clinics.
The East Sector of HEE NW has been running an annual mock Intercollegiate Exam. This is an excellent opportunity for all our trainees and had been an important part of the success that we have seen in the exam.
Research, Audit and Teaching
Opportunities for clinical research exist within all departments involved in the programme and trainees are expected to take advantage of this. There are dedicated post in both Salford and Preston for research registrars, allowing the opportunity for our trainees to take time out of programme to complete a higher degree. A large proportion of our trainees manage to take up this opportunity and have been very successful.
All trainees should be actively involved in audit on an ongoing basis and be in a position to demonstrate this at annual appraisal and ARCP interviews.
Teaching of less experienced medical colleagues, medical students, nurses and other paramedical staff is an integral part of the post and all trainees are expected to be involved in this.
Links

Health Careers - Neurosurgery - Specialty Registrar "Real-life Story"

Health Careers - Neurosurgery - Working Life
Hospitals on the Neurosurgery East Sector Rotation
GMC Programme Code: NWE1045 (was NWD873)
---
Page Last Updated 30 January 2018