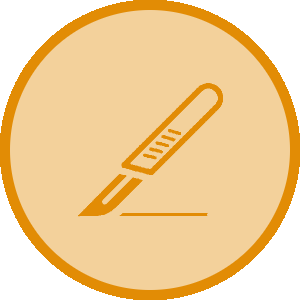 Information on this page relates to the West (Cheshire & Merseyside) Sector of Health Edcuation England, North West (HEE NW) only.
OMFS West Sector Rotations
11 ST3 and above training posts in OMFS in this rotation including one academic clinical fellow (ACF) post. There is in addition one ST1/CST1 'run-through' post.
The ST3-7 training rotation includes one of the largest hub units with 15 trainers all with sub-specialty interests, a children's hospital with supra-regional craniofacial and cleft surgery, and district general hospitals including North Wales which includes rural practice.
Clinical opportunities for training are exceptional with the opportunity to exceed the indicative numbers defined by the SAC OMFS, and the option of concentrating on sub-specialty training once these competencies have been achieved.
Liverpool is unique in offering a 4 year OMFS Masters Degree programme which all trainees are invited to join. On the academic side we have three professors in OMFS and a senior lecturer who supervises our academic trainee and all have helped OMFS trainees complete research qualifications. A recent paper showed that Mersey trainees also lead the country in the conversion of abstracts/presentations to full papers. This shows the focus across all trainers on the importance of completing projects.
Trainees in Mersey have won the Gold Medal for top candidate in the Intercollegiate FRCS (OMFS) exam on six occasions. Since some year's Mersey trainees were competing with each other, this is an exceptional record.

Outline of Clinical Training
Aintree University Hospitals NHS Foundation Trust - is the hub hospital in which OMFS training in the Mersey area in Health Education England North West (HENW) is based. Trainees rotate around the region and to North Wales to ensure exposure to the full OMFS curriculum. Aintree has the largest team of OMFS consultant/trainers in the UK. It has a world leading team in Head and Neck Cancer surgery, with strong links to ENT colleagues. Liverpool has one of the busiest OMFS trauma services, five surgeons with sub-specialty interests in facial deformity including orthognathic surgery two of whom also are recognised trainers in the Interface Aesthetic Surgery Fellowships. Aintree provides regional services for facial skin surgery, basic and complex dentoalveolar surgery under LA and GA, TMJ surgery including TMJ replacement, as well as a district service for its local community.
Alder Hey Children's Hospital (Royal Liverpool Children's Hospital) – is the largest children's hospital in Europe and is a regional provider of cleft surgery (primary and secondary surgery), one of the four supra-regional providers of craniofacial surgery, and provides exposure to paediatric general OMFS.
Arrowe Park Hospital and The Countess of Chester Hospital are south of the river Mersey and provide training in OMFS service provision in a spoke DGH to a central hub.
Trainees based in the regional unit and the hospitals above provide an out of hours service on a 1 in 8 basis minimum.
Glan Clwyd Hospital part of Betsi Cadwaladr University Health Board across North Wales – is a district general hospital which provides a regional OMFS service to the people of North Wales. It provides the full range of OMFS services except primary cleft and craniofacial surgery.
There is a separate on-call rota of 1 in 5 based in North Wales.

Opportunities to Visit
Each month there is a regional audit and teaching day at which most of the trainees and trainers are present. Prospective applicants are invited to contact the TPD to arrange a visit.

Population
Both Mersey and North Wales work on the hub and spoke model. The population of the Mersey region is 2.3 million people and a comprehensive service is provided through the Regional Centre with major cases from throughout Merseyside and Cheshire being admitted to Aintree and Alder Hey.
The population of North Wales is approximately 650,000 with the main in-patient facilities based at Glan Clwyd Hospital, Bodelwyddan.

Overview of Duties of the Posts
Specialty Trainees attend theatre sessions, general and multidisciplinary clinics and undertake ward rounds. Their duties will include:
To provide OMFS diagnosis and treatment for patients to a high standard with the direction and guidance of the Consultants.
To provide Minor Oral Surgery treatment to both out-patients and in-patients
Involvement in the day to day management of the Service and other duties from time to time at the discretion of the consultants.
The trainee will be expected to be fully integrated in all the clinical activities of the department. This will involve theatre sessions, general clinics, specialist clinics, and minor oral surgery. The vast majority of this will be done under general anaesthetic but there will be allocated local anaesthetic sessions.
As well as receiving teaching, trainees will be expected to teach junior doctors and assist in the delivery of their teaching curriculum.
All trainees will be expected to help with audit projects and indeed carry out their own audit projects. This is conducted through the monthly audit and education meetings. Research will be encouraged and there are fixed study sessions within the time table.
The trainee will be expected to be integral in the administration of the particular firm/rotation to which they are attached. They will be expected to liaise between patients and the department and between various colleagues.

Rotations Consist of Training Blocks of Four to Six Month Duration
Training blocks are allocated by the OMFS Training Programme Director (TPD) in the context of the trainee's needs.
As each consultant has a sub-specialty interest, it is possible to create themed training blocks. This speeds up the learning needs.
The range of blocks mean that each trainee receives exposure to the entire spectrum of the specialty and this exposure is graded so that a junior trainee is not exposed to too much responsibility, but a more experienced trainee is prepared for life as a consultant.
When the ST covering trauma is on leave, then their responsibilities are shared amongst the other trainees on a rotational basis.

Hospitals on the OMFS West Sector Rotation
GMC Programme Code: MER 934 & MER2549 (run-through)
---
Page Last Updated 29 November 2017