The Medical Leadership Competency Framework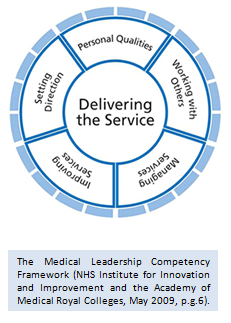 As part of the wider Enhancing Engagement in Medical Leadership Project, the Medical Leadership Competency Framework (MLCF) has been developed jointly by the Academy of Medical Royal Colleges and the NHS Institute for Innovation and Improvement.
All information and documents from the Enhancing Engagement in Medical Leadership Project are available from http://www.aomrc.org.uk/projects/enhancing-engagement-in-medical-leadership.html however several key links will be provided throughout the remainder of this section.
The MLCF describes the leadership competencies doctors need to become more actively involved in the planning, delivery and transformation of health services (AoMRC and NHS Institute, 2008).
The MLCF has been designed to apply to all medical students and doctors.
The way in which the framework is applied and how competence and ability is demonstrated will vary according to the career path chosen as well as level of training and experience. Making the framework user friendly, three main career stages have been identified:
MLCF Domains

Demonstrating Personal Qualities
Working with others
Managing Services
Improving Services
Setting Direction
Images: Copyright NHS Leadership Academy 2012
The MLCF is made up of five domains and each of the five domains is broken down further into four competency areas. For more information and to complete the Self Assessment Tool please click here.
Following the MLCF, the Medical Leadership Curriculum (MLC) has been developed.
The MLC has been approved for incorporation into all postgraduate medical curricular and is being used to develop development programmes, aid in appraisal and recruitment as well as in personal development planning (Enhancing Engagement in Medical Leadership July 2010 Update).
Health Education North West has utilized the MLCF and the MLC as the basis of their commissioned Post Graduate Medical Leadership modules and the Medical Leadership Fellowship and all other Medical Leadership training opportunities.
To quickly access the MLCF and the MLC links to the most up-to-date versions of the documents can be found on the sidebar.
Page reviewed 15th January 2015