Health Education England (NW) Medical Leadership Fellowship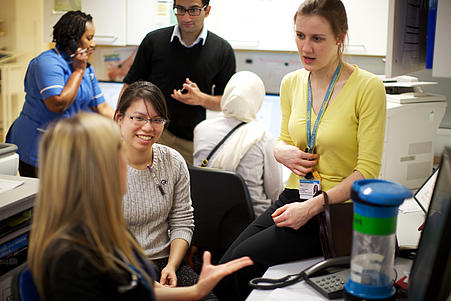 Please note that recruitment is currently suspended due to the COVID-19 pandemic. Please keep checking this page for updates.
Health Education England North West (HEE NW) believes in investing in future Medical Leaders. We fund a high quality Fellowship programme for exceptional trainee doctors and dentists. The HEE NW Medical Leadership Fellowship programme (MLFP) is a flexible, challenging and practically orientated approach to leadership development. The Fellowship programme is based on integrating all aspects of Medical Leadership to prepare hospital doctors and dentists for their future leadership roles.
The fellowship enables individuals to experience a range of leadership opportunities made up of academic, clinical and vocational elements.
It is hoped that by stimulating interest in medical education during training, individuals will go forward with the skills and motivation to take up valuable leadership / supervision roles within their workplace. One of the main objectives of being an MLF is to help to foster a culture of excellence and leadership in the clinical workplace.
FAQs
To see a list of FAQs regarding the Fellowship Programmes, please click here.
"Well in the beginning we didn't really know what to expect. I think it has definitely exceeded my expectations. I think it's a very well resourced, very intensive programme and I think that we've all learned a lot… the academic sort of views, experiential learning sets and the action learning; all these things I didn't actually realise the programme was going to be so full of!"
Programme Components
Academic Programme
The fellowship will financially support trainees to complete 2 modules of the PG Cert in Medical Leadership
Clinical Programme
Design and delivery of a quality/service improvement project related to medical leadership in the trainee's clinical setting, either workplace, or school based, supervised by a senior member of faculty at the HEE (NW) Deanery and with the support of the Trust Clinical Director or equivalent.
The project must be in addition to any annual audit/QI project required as part of the specialty curriculum requirements and will be trainee-directed with input as required from a range of senior educators, including Associate Deans, Head of School, Training Programme Directors, Practice Leads and Directors of Medical Education, as relevant to the project.
Vocational Programme
During the fellowship, MLFs will have the opportunity to learn from medical leadership encounters and access relevant HEE experiences and development opportunities. These could include the following:
Opportunity to shadow people in Medical Leadership roles e.g Medical Director, CCG lead, national leadership lead
Psychometric tools (e.g. MBTI, Belbin) delivered by a member of HEE staff
Healthcare Leadership Model (HLM) 360 degrees appraisal
Opportunity to present a poster at the HEE (NW) Annual Conference (year 2)
In addition to the more formal elements of the programme, MLFs are encouraged to develop their leadership portfolio and CV and seek opportunities to support leadership in the workplace.
Further Information
Throughout the fellowship each MLF will be encouraged to reflect on each leadership activity and record in a 'reflective log'. MLFs remain in their clinical training placements for the duration of the fellowship. Participating in the programme does not lead to an extension of CCT date for hospital trainees.
Initially, MLFs are offered a tenure of one year with a second year granted on evidence of satisfactory progression in the role.
"The Medical Leadership Fellowship Programme is an amazing experience, with leadership training and the freedom to be able to manage your own time and develop your own ideas with expert support. You get a lot of opportunity to network and make contacts for the future. The academic component teaches you the basic workings of the NHS as well as the new developments, leadership and organisational theories. I would highly recommend it to any interested trainees."
Name
Role
Email
Social Media
Dr Rebecca Baron
Associate Postgraduate Dean (GP)
facultydevelopment.nw@hee.nhs.uk
@LSFD_HEENW
Dr Roisin Haslett
Associate Postgraduate Dean (Hospital)
Sarah Metcalfe
Programme Support Manager
Justin Baker
Programme Support Officer
Jamie Morgan
Programme Administrator
Quotes were taken from the Medical Leadership Fellowships End of Year Surveys