Individual Peer Review (Appraisal) for GDPs

Maxcourse online booking system

Baby Teeth Do Matter course: Apply Here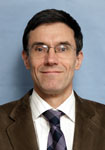 Welcome to Health Education England North West's website Dental pages.
Dear Colleagues,
Having had a varied and thoroughly enjoyable career in the dental profession I have decided to retire at the end of the year after 40 years on the dental register. My successor as Dean in Health Education England (HEE) North West is to be Donna Holden who has been working in the various iterations of postgraduate educational structures since the early nineties. Donna has a vast experience of commissioning and providing education and I'm sure will very able to continue the strategic direction of travel of the dental section, I wish her every success in her appointment.
The role of Chairman of COPDEND is to be taken by David Felix, Scottish Dental Dean, whom I'm sure will be keen to continue the collaboration between England and the devolved nations on sharing good practice and giving advice on dental education, as well as continuing the joint national recruitment processes to dental programmes that ensure fair and open applications to our programmes.
Jane Luker currently HEE Dental Dean for the SW has been appointed Chair of HEE Dental Deans and will take on the role of liaising with the Office of the Chief Dental Officer, Public Health England, NHS England and the Department of Health and Social Care to determine strategy that can be underpinned and supported by HEE. She will also be representing HEE at the numerous other meetings of stakeholders and regulators.
Advancing Dental Care phase one report was published May 2018 and has opened up a unique opportunity to look at the future of dental education and training to support NHS England commissioning of services. In a rapidly evolving oral health are world, where disease patterns are changing; information technology, augmented reality, robotics and artificial intelligence are moving on at an ever increasing rate; dental workforce attitudes to work are altering, with emphasis on part time, flexibility and career progression, our planning for the next 10, 20 even 30 years has to be made now to ensure security of appropriate workforce supply for the future. Malcolm Smith, currently HEE Dental Dean for the North East has been appointed chairman of this challenging task.
In the North West we have also newly appointed Susan Ellis to the role of Head of Dental Workforce Transformation and Quality. She will focus on improving both patient and trainee safety and experience ensuring effective educational outcomes for both the current and future workforce. With the patient at the heart of everything we do, the role will be responsible for the development of the whole dental workforce to address future oral health needs across the North West of England.
I wish all these individuals as much pleasure and intellectual challenge that I have enjoyed over the years. I shall watch with interest from the side lines as time marches on!
Kind regards
Nicholas Taylor
Dean of Postgraduate Dental Education